Preschool Beach Theme
Story Time
Purchase Books Or Check Library!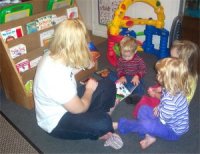 This cute rhyming book describes how 11 sea animals move across the beach.
The book encourages movement along with the 11 sea animals that have different movements such as a lobster dancing, a penguin flapping, and an octopus twisting.
This book would be great for gross motor movement and have the kids mimic the animals in the book such as Jumping like a porpoise and slithering like an eel. Kids will have a great time mimicking their sea animal friends that are on the beach.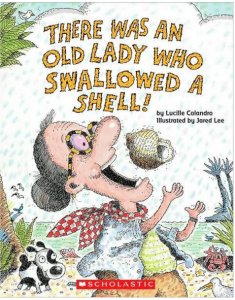 There Was An Old Lady Who Swallowed A Shell
Lucille Colandro
This story is based off the there was an old lady who swallowed a fly, she has a whole series of these books.
This story is set into motion in a rhyming pattern which is absolutely fun to read and best of all the kids love it. The pictures in the book are very entertaining. The old lady in this book starts off by swallowing a shell. She will also swallow a crab, a fish and a sea gull, etc.
This is a great book to read during your beach theme week. After you can have pictures of all the items she swallowed and have the kids help you sequence the objects.
You may get a few yuks when she swallows the sand, but this is also a good time to teach them that sand eating is not allowed, most children realize this but since she is swallowing the sand in the book, it's a good time after the story to point out this is not real it's just a funny story.
Above all the kids love the story and learn about beach items in a fun way!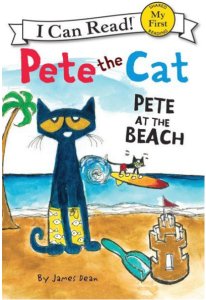 Pete the Cat: Pete at the Beach (My First I Can Read)
by James Dean
Pete the cat and his mom and brother Bob go to the beach!
Pete tries to have fun building sand castles and searching for shells, but he gets very hot and he's not sure if he wants to go in to the water or not. He thinks the water looks scary.
His brother is surfing and offers to teach Pete how to surf. Will he go into the water? What about those big waves? Let's find out what Pete the cat does.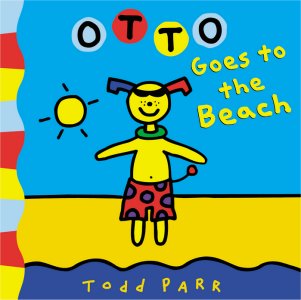 Otto Goes To The Beach
by Lucille Colandro
Otto goes to the beach and can't seem to find a friend. But eventually finds a friend who loves the same things that he does.
Poor Otto's shorts fall off while surfing and a cat laughs at him (this is a good time to talk to children about how that can hurt someone's feelings and we don't laugh at someone we try to help that person if possible or find an adult to help). I think this little piece could have been left out of the book, but I do like the book and the kids love hearing the book
The pictures in the book are very simple and done with very simple colors.
But beware, if you do purchase this book most kids in our daycare love these books and like them read over and over, so be ready to do a lot of reading!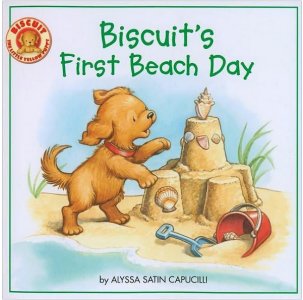 Biscuit's First Beach Day
by Lucille Colandro
Biscuit is going on his first trip to the beach!
Biscuit is excited about digging in the sand, finding a starfish, jumping the waves in the ocean, having a picnic and a little nap too are some of the fun things you will read about in this book.