Starting A Daycare?
Click The Link Below
Download & Print Out
View the table of contents


For our Starting A Daycare e-book
Plus View & Print Out Some Daycare Forms!
Click here to go to our "Starting A Dayare" webpage
Click here to purchase our "Starting A Daycare" e-book & Forms $25.00
150 Daycare Forms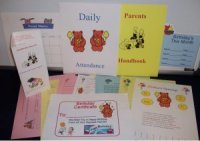 The 150 daycare forms are included in the daycare kit, click here to view the free samples of the daycare forms, you can purchase the 150 daycare forms (separately) for 15.00 or you can purchase the daycare kit which includes the 150 daycare forms and the start your own daycare e-book for 25.00.