Outdoor play will depend on the weather.
Diapers are checked every 2 – 3 hours or more often if needed.
Parents are welcome to visit unannounced at any time
Our toddler & preschool curriculum offers children experiences which emphasize emotional and social development as well as the development of cognitive, language, physical, sensory perception, spatial ability, creative expression, and self-awareness.
We have creative curriculums made for infants, toddlers & preschool children. Our themed lesson plans give the children a fun and engaging day. Our curriculums offers lots of hands on play for little learners.
Our curriculums help the children to build friendships as they learn to communicate with each other as their language skills develop. Through age appropriate activities, our curriculums encourage growth and exploration.
Children will have fun age appropriate activities that involve sensory activities. Some of the activities they will engage in include: art and sensory experiences, doing puzzles, hearing stories, using play dough, and playing with water in a water table or playing with rice in a sand table.
Our curriculum fosters social & emotional development and provides plenty of hands– on activities.
Daily

Schedule

Form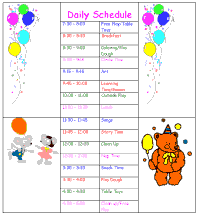 Print Out Today!
Need a cute daily schedule? We have a daily schedule in our package of 150 daycare forms. You can print it out right after purchase and edit the form to fit the needs of your daycare or preschool and then display it on your bulletin board. Yes, you can edit the daily schedule and change the hours and activities as needed.

Our daily schedule (shown above) can be changed right on your computer and then just print it out. Observe what time you usually serve meals, read stories, plan art activities, go outside, put the children down for naps and write it down, keep track for a few days and then plan out your daily schedule, if you find you need to change the times or activities on the daily schedule shown above, simply open up the form and change it as needed to fit the needs of your daycare, it couldn't be easier! Just print out and place it where the parents can view it.

Click here to go to our daycare forms page. We have over 150 daycare forms that you can edit, including a parents handbook, contract, food menus and many more. Click here – to view our daycare forms. Right after purchase you will have instant access to the entire package of 150 daycare forms for only $15.00. Print out and start using today!
View Our Website - Click The Links Below